⭐️ Onefootball's greatest ever teams: In 15th place is ...
Onefootball
Lewis Ambrose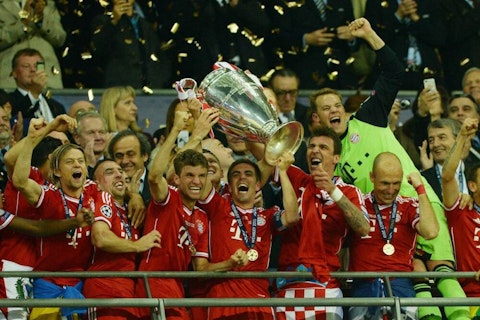 With most football on pause, we've had a look through history.
And after much discussion at Onefootball HQ, we've put together a top 20 club teams of all time, which we'll reveal over the next few weeks.
Today we're down to 15th place …
---
Bayern Munich 2012-16
Why are they here?
Dominated domestically with four Bundesliga titles and three cup wins in four years
Won the club's only ever treble under Jupp Heynckes
Racked up the three highest points tallies (91, 90, 88) in Bundesliga history
---
The stars
Philipp Lahm – the captain
Arjen Robben – Mr Wembley
Manuel Neuer – the sweeper keeper
---
Bayern Munich have been the biggest team in Germany for a very long time. But they hadn't ever enjoyed utter dominance until recently.
Perhaps surprisingly, the Bavarian giants had never won more than three consecutive titles until this team came around. Spurred on by the pain of watching Borussia Dortmund win back-to-back titles and then losing the Champions League final in their own stadium, Bayern set out to become a force that swept away everything in their path.
They achieved precisely that.
The 2012/13 season remains the greatest in the club's history. Having signed Javi Martínez for a club record fee to bolster the midfield, Bayern completed their first (and, to date, only) treble.
They claimed the Bundesliga with 91 points, a record that still stands, and beat Barcelona 7-0 on aggregate in the Champions League semi-final before completing their collective catharsis with a 2-1 win over Borussia Dortmund at Wembley.
Jupp Heynckes, who had instilled a mixture of ferocious pressing and delicate possession, left and Pep Guardiola arrived. Bayern became a bit more possession-based and a lot less predictable. These were Guardiola's experimental years.
Boateng became arguably the world's finest defender. Manuel Neuer's reinvention of the goalkeeper went even further. Lahm, Guardiola's most trusted man on the pitch, went from being the world's best fullback to a world class central midfielder.
He is one of the most fantastic players I ever trained in my life and one of the most intelligent. He can play in 10 positions, no problems because he understands the game perfectly.
Further forward, Thomas Müller found new heights in his game and the wing pairing of Arjen Robben and Franck Ribéry became deadlier than ever. The addition of Robert Lewandowski took the frontline to a new level.
While Guardiola was in charge, Bayern lost just 10 Bundesliga games. Five of them came after the team had already clinched the league title.
The team may not have added another Champions League under Guardiola but they reached three consecutive semi-finals and the club's style was adapted enormously, leaving a huge mark on the rest of the Bundesliga and changing the way teams across Germany approach the game.
Their place in history alongside the greatest teams to ever play the game is guaranteed.