This June, Ousmane Dembele will enter the final year of his contract at Barcelona. The current deal is viable until the summer of 2022 and this puts the young Frenchman at a crossroads of sorts. On one hand, a player who plans to stay with the team shouldn't exactly be put in this situation in the first place. On the other, if Barcelona are to sell him, now is the last chance to do so if there's to be at least some profit coming from it.
Considering how the club is still in a dire financial situation, this is a huge decision they have to make. Dembele has also been a very big investment on their part and a player who has what it takes to mark the club's future as well as the present. However, while we've been seeing glimpses of that player, Dembele still has a long way to go before fully convincing everyone.
That's exactly what makes the situation so complex. The past couple of weeks have been rather impressive and the Frenchman is slowly but steadily growing both on and off the pitch. Now we're seeing a much more mature player; one that is motivated, fit and eager to prove himself. In other words, Dembele has grown immensely and it's reflecting positively on his performances.
He went from a player whose injuries threatened to outnumber the number of games in which he'd featured for the club to a player Ronald Koeman can count on week in, week out. The stats definitely confirm that thesis. Dembele has played 28 games so far in 2020/21 and has accumulated a total of 1740 minutes across that tally.
Compare that to the meagre 492 minutes in 2019/20 and much better but still inconsistent 2503 in 2018/19 and the results are palpable. He's already eclipsed last season's tally by a long shot and is on course to do the same with the 18/19 and we're just half-way through the current campaign. In that sense, we have to commend him and say that yes, both on a psychological and fitness level, he's making strides in the right direction.
However, there are always two sides to the same coin. So far this season, Dembele has scored six goals and assisted four more on the side. In his last 'full' season, back in 18/19, he registered 14 and eight respectively across all competitions. This could mean that at this rate, we won't see such a big return on this campaign unless he seriously steps it up.
Granted, with him, it's not always about the final product. Dembele brings a dose of chaos into Barcelona's usual stability and calmness in possession. His pace, unpredictability and constant threat on the flank mean the Catalans' attack is that much more dangerous for the opposition.
So the numbers can be deceiving when it comes to his contribution. Take their last game against Cadiz CF, which unfortunately ended in a draw. Dembele's gravity on the right and his movement were causing the guests worlds of problems as he weaved through their defence time and time again. But while that was certainly impressive, it also revealed some of his other flaws.
Dembele is a powerful player when fit and ready but his final product can be lacking. Barcelona kept getting into good situations but sadly with no results to show for. The Frenchman himself was among the players to miss big chances that afternoon which, combined with the final defensive error from his countryman, meant victory slipped through their fingers yet again.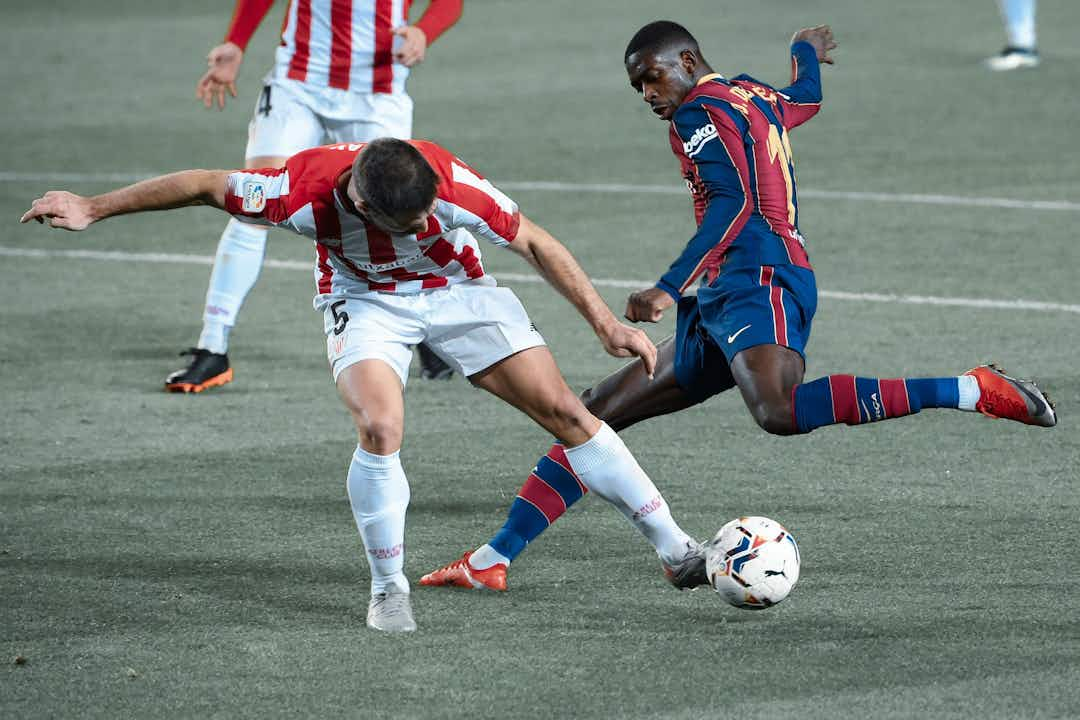 So despite finally staying fit and playing regularly, Dembele's output is still below par for such a gigantic signing. He is not alone in this, of course, and he shouldn't and won't exclusively be blamed for Barcelona's mishaps. But the magic and dazzling runs have to amount to something. Otherwise, they're just aesthetics that won't exactly win you games.
It may be a harsh verdict but in this transitional period where Barcelona are aching for results, players must finally step up and start pulling their weight. It is phenomenal how Dembele has improved his fitness levels and mentality. That part of his development must be commended. But unfortunately, we still require a lot more from the young Frenchman.
That being said, he is 23 years old, which means there is still room for improvement. However, it also means he's entering his prime years and now is the time to finally turn his god-given talent into something more. We keep saying he has the potential to become world-class because there are glimpses constantly proving this to be true.
But the talent alone won't cut it. While he does seem to be putting more effort in as of late, we're yet to witness true results. We're dazzled with his moves because frankly, he's often the only spark we have. That in itself is a part of a much bigger problem.
Sadly, the alternative to grooming him into the world-class winger Barcelona need is equally as challenging. If they are to sell him, it needs to happen this summer. Although, we have to remember the length of his remaining contract is sure to hamper any potential financial gains and the club can forget getting anything close to what they had invested in him.
Would it be enough to ensure funds for a worthy replacement? Can they hope to find someone better on the market who's both available (in other words, cheap) and good enough? These questions make their decision even riskier.
But transfers are always nothing more than a gamble. You can do your research and everything could fit on paper but the reality can often be deceiving. Such is the nature of this sport.
"I think Ousmane Dembele deserves special treatment. You have to take care of such great players. I really like to see Dembele well. He has been settling down, is in spectacular form, and is mentally strong as well," Joan Laporta told Gerard Romero recently. And it's true, Dembele deserves special treatment because he is a special player.
But how long do Barcelona plan to give him to break out of his shell and reach for the stars? The clock is ticking and they have to make a huge decision in the coming months.
Dembele himself has a big task ahead as well – prove to the Azulgranas he's worthy of staying at the Camp Nou. Prove that the world-class player we all know is deep within will come out eventually.
If he can do that, there's no doubt a bright future is ahead of both him and Barcelona.