Has everyone got their Amazon subscriptions ready?
Tottenham's tumultuous 2019/20 campaign has come to an end – here's what we made of one of the weirder seasons' in their recent history.
---
Player of the season: Heung-min Son
With Harry Kane out for over three months through injury, it was down to the rest of the Tottenham attack to fill the void left by the England international.
Some forwards wilted under that spotlight and change of coach – others however, thrived.
Heung-min Son was definitely the latter.
His 18 goals in all competitions is second only to Kane in the club's scoring charts this term, but it wasn't just the number of goals that impressed, but the moments in which they came.
A winner against West Ham, two in a nail-biting Aston Villa, another in the victory over City.
Son has scored big goals in most of their big games this season and will surely be a backbone of the side next season.
---
Rising star: Japhet Tanganga
The perception of José Mourinho as a coach is that he's never one to normally trust a young player.
If it's a choice between an exciting teenager and a grizzled old pro, more often than not José will opt for the veteran.
Which is why Japhet Tanganga's burst onto the scene this season has been such a pleasant surprise.
Thrust into the starting XI for crucial games against Liverpool, RB Leipzig and Chelsea, it's clear that the manager already trusts this brilliant young defender and we should expect to see a lot more of him in 2020/21.
And that was compounded by news earlier this week that confirmed Tanganga has signed contract which ties him to the north London side until 2025.
---
Flop of the season: Tanguy Ndombélé
He arrived with a huge amount of fanfare and was proclaimed as one of the signings of the summer.
He may leave 12 months later as one of Tottenham's most costly mistakes.
Tanguy Ndombélé should have been the signing that took Spurs to the next level, the arrival that would see them finally compete at the top table.
Instead, he's languishing on the bench with a manager who wants rid.
It's been a sorry state of affairs for a midfielder who, in brief moments, has looked like the genuinely world class player he is.
But now, it seems as if their €55m arrival will be moved on, the first casualty of José Mourinho's Reign of Terror.
---
Rate the manager(s)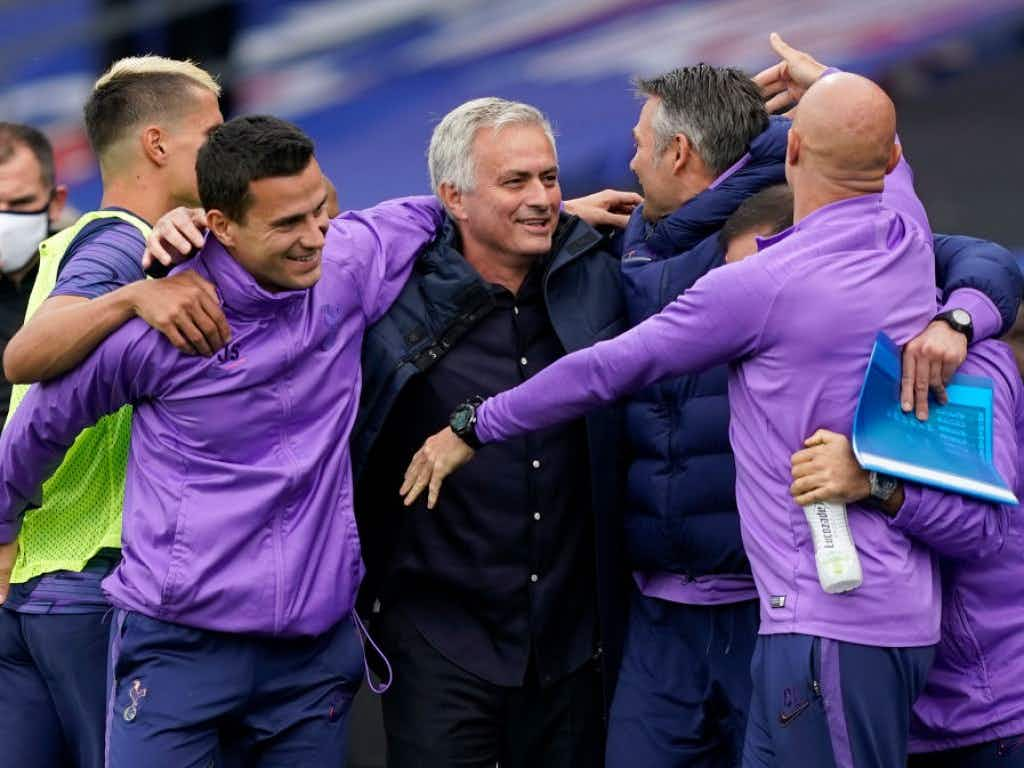 When Mauricio Pochettino was orchestrating the travelling Tottenham fans at the Amsterdam Arena just over a year ago, tears in his eyes, proclaiming it the best moment in his footballing life, who could have possibly thought that seven months later he would be out of a job.
There's no doubting that Spurs' start to the season had a feeling of After the Lord Mayor's Show, but surely the Argentine tactician had earned the right to right the wrongs?
Apparently not, at least according to chairman Daniel Levy, who dismissed Poch late last November and quickly hired the man for which winning isn't the main thing, it's the only thing.
José Mourinho was hired as the coach to take Tottenham past that last mental barrier and win them a trophy – whatever the cost.
So far, it's unclear as to whether it was really worth it.
Admittedly Mourinho has taken Spurs into the Europa League next season but the football being played in north London has been pedestrian at best.
The three-year Mourinho pattern seems to have been condensed into just a few months – he loves the players, he hates the players, he leaves.
His first full campaign was always going to be the one where he truly gets judged and with this kind of football, anything other than a trophy come next May is going to be deemed a failure.
---
What comes next?
A season that could have repercussions for years to come.
Should Mourinho guide Tottenham to their Holy Grail – an actual trophy – then the Portuguese tactician's sour reputation will be repaired and he'll have even more sway on all aspects of the club.
Fail, and who could honestly bet against a raft of their top players leaving for pastures new and the Special One becoming the Soiled One?
It's going to be genuinely fascinating watching this from afar – and then watching the Amazon documentary.
---
Rating the season: 5/10