And just like that we have a semi-final line-up for the FA Cup after Manchester United, Arsenal, Chelsea and Manchester City all won at the weekend.
This is the best and worst of what went down over the four fixtures.
---
The Good
Lampard shows his ruthless streak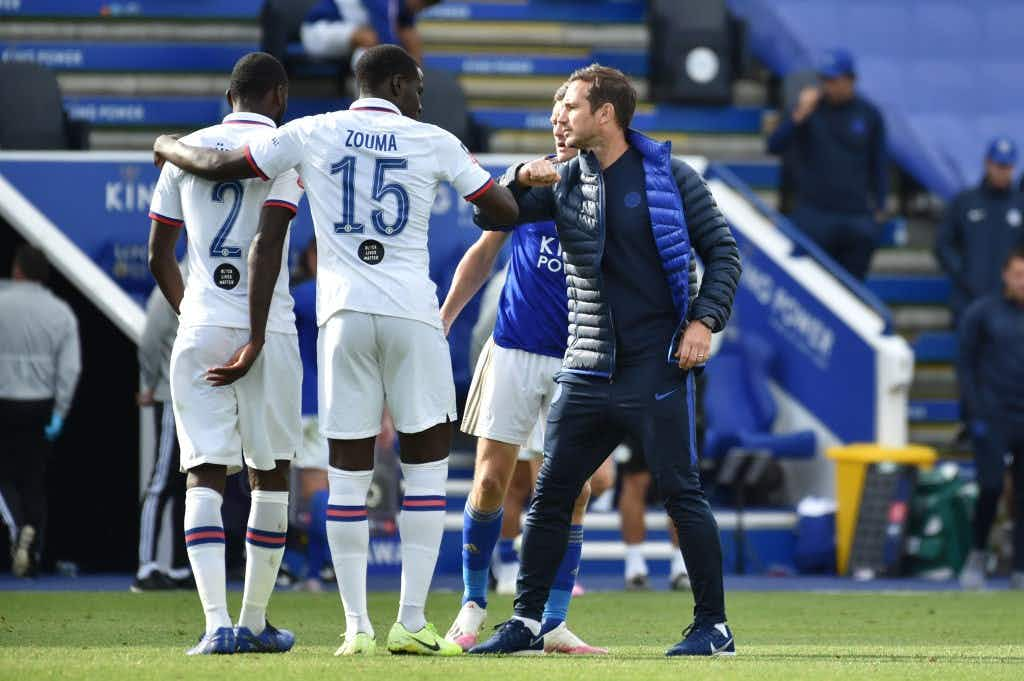 The triple substitution is a rare occurrence in football, albeit one that may be set for a return to prominence with the new five subs per game rule.
Even rarer is seeing three subs all made at half-time.
But in just his second season in management, Frank Lampard showed that he isn't afraid to make the tough decisions as he wielded the axe in a big way.
Even more ruthless was the fact that the three players he hauled off were all academy youngsters in Billy Gilmour, Mason Mount and Reece James.
He had good reason for doing so though as his side had been lethargic in producing what he deemed the worst and 'luckiest' performance of his reign.
It paid off in a big way too. Chelsea were much better and sharper after the interval and it vindicated what was a tough decision with the youngsters.
Regardless of the perception of it, the situation called for Lampard to make a big choice and he did.
The fact that one of his replacements, Ross Barkley, scored the only goal of the game was just gravy for him.
Big win for Arsenal
It is very easy to poke fun at Arsenal and some seem to relish every Tesco carrier bag-carrying defender or midfielder meltdown as an opportunity to do so.
So give them credit when they've earned it.
Sheffield United may have came back from the break in body only as they've just not been at it, but Bramall Lane was always going to be a tricky trip to navigate.
Yet Mikel Arteta's men were impressive and showed some of the steel and resolution that has been missing when things got tough.
Kieran Tierney was a standout and the hope will be that he can now kick on and avoid any further injury setbacks, while Nicolas Pépé showed what a weapon he is when on song.
Even Alexandre Lacazette managed to take a break from twirling umbrellas on the coast to turn up and play his part.
The only downside about the win is the Gunners have been rewarded for it with a date against City at Wembley. Gulp.
---
The Bad
United reserves waste their chance
When Ole Gunnar Solskjaer made eight changes for his side's trip to Norwich City, it gave several fringe players a big chance to impress.
Very few, if any, actually grasped that opportunity.
Let's run through those who had a big chance to show the boss what they could do and fluffed their lines shall we?
Diogo Dalot – Awful. Poor positioning, poor distribution and failed to have any kind of impact. Unsurprisingly, the first to be subbed.
Eric Bailly – Started well and mixed moments of solidity with sloppiness. Didn't really do enough.
Scott McTominay – His position is now really under threat with a Fred-Pogba-Fernandes midfield likely to be favoured. Seems best suited for games when United will be on the back foot.
Juan Mata – Average. And that's being rather generous about this showing. We know the Spaniard's ability but this wasn't a game where he showcased it.
Jesse Lingard – This was likely last chance saloon time. It seems we've reached the end of the road for the frustrating midfielder.
If anything, the cameo outings from the likes of Paul Pogba and Marcus Rashford showed the gap in quality between the main men and the rest.
The main thing for United is that they won in spite of some subpar displays but there will be quite a few of their players kicking themselves about how things went at Carrow Road.
---
The Ugly
Meek Newcastle
If you are going to go out of the FA Cup, even against the holders, at least make a fight of it.
Newcastle did very little of that and were just so passive in allowing their quarter-final to get away from them.
City don't need any help but the home side made it so easy for them, sitting off, rarely foraying forward and ultimately, shooting themselves in the foot.
Despite being bombarded in the opening half, only a stupid mistake from Javier Manquillo in shoving Gabriel Jesus gifted City a penalty and with it the opener.
It really was tough to watch at times and it got even worse after the break.
Having created nothing of note, a Nicolás Otamendi error presented Dwight Gayle with an easy finish in the six-yard box – only for him to blaze off target.
Moments later, City killed the game with their second. Because of course they did. The half-century wait goes on …