📸 Ranking all the newly released Nike 2019/20 third kits
---
Football kits are a big deal.
Their objective is simple, but with the sudden boost in culture and aesthetics, they're not just football jerseys – they can be worn everywhere.
And Nike get a lot of stick for their simple designs but these third kits are a thing of beauty.
Here's our attempt at ranking them all …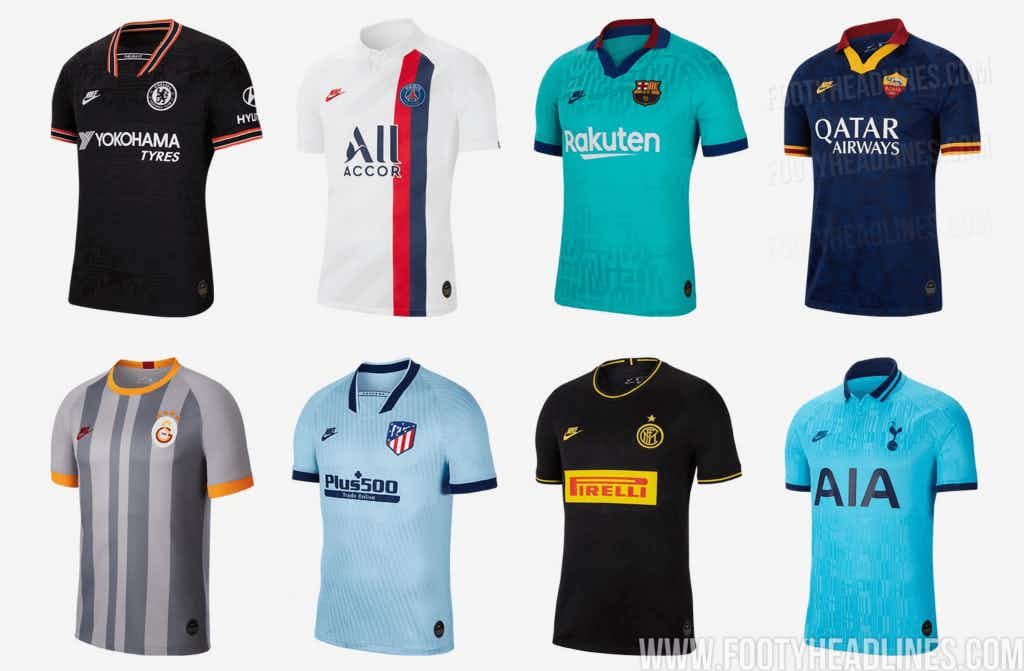 ---
1 – Roma
Everything about this jersey is perfect. The colours, the collar, even the sleeves.
It's a similar template to the Barcelona one but wow – Roma always have so much sauce.
---
2 – Chelsea
Chelsea release their third kit for the 2019/20 season. 😍🖤 #cfc #pl

— FOOTBALL FORUM (@FFfootballforum ) 2019-09-04T08:04:14Z
Something different! Hallelujah!
You can't go wrong with red and black, and even though we weren't sure about the collar, it's grown on us.
---
3 – Inter
Inter Milan have dropped their new third kit for 2019/20

— B/R Football (@brfootball ) 2019-09-09T07:31:56Z
Another simple yet really cool design.
We love the yellow and black, plus the old school Nike logo really stands out.
---
4 – Barcelona
@FCBarcelona have released their third kit and it looks amazing🔥 #FCBarcelona

— The Daily Kickoff (@dailykickoff1 ) 2019-09-12T10:11:31Z
The base colour of this jersey is stunning.
We love how the Barcelona badge stands out, plus the darker tint on the sleeves.
---
5 – Paris Saint-Germain
Parisians, unite. 🔵⚪🔴 Nike & @PSG_inside come together once again for the release of their third kit. Cop today, wear tomorrow. Now available at #ProDirect ➡️🛒 https://t.co/XKyCkkmito

— Pro:Direct Soccer (@ProD_Soccer ) 2019-09-14T15:30:04Z
All white jerseys look great, and the Parisian red/blue effect really brings it together.
---
6 – Tottenham
Tottenham release their '90s inspired third kit for the 2019/20 season

— B/R Football (@brfootball ) 2019-09-03T15:09:04Z
Nice. Consistent across the board and the badge/sponsor combination looks great.
Just lacking some X-Factor.
---
7 – Atlético Madrid
Atletico Madrid release their new third kit for 2019/20

— B/R Football (@brfootball ) 2019-09-13T09:49:02Z
Again. It's not because we don't like the jersey, it's just a bit plain.
Love the colour scheme but nothing jumps out.
---
8 – Galatasaray
🗿 Nike × Galatasaray SK 2019/20 new third kit. #GalatasaraySK #Galatasaray #AslanKükre #AlwaysForward #NikeFootball #football #soccer #kitstown

— kitstown (@kitstown ) 2019-09-17T02:38:15Z
This doesn't mean we dislike the jersey, it just isn't as nice as the others.
The silver and orange compliment each other nicely. Standard is too high!