A return for one of Europe's biggest sides as two new entries come into our Power Rankings this week. But Liverpool are still missing and Real Madrid are on the slide.
---
10. Juventus (🆕)
Juventus might be back? They're certainly back in our top 10. Andrea Pirlo has Juve humming along pretty quietly after a solid if unspectacular start to his reign.
They appear to be in the groove now and impressive back-to-back wins against Milan and Sassuolo have sent a message to the rest of Serie A. They're not just fighting for the title but they're leading the chase.
9. Everton (🆕)
The longer the season goes on, the longer you think Everton really could qualify for the Champions League. Carlo Ancelotti's men have won five of their last six in the Premier League and this week's win at Wolves was hugely impressive.
No Richarlison, no Calvert-Lewin, a defeat to West Ham last time out. But the Toffees just keep on responding.
8. Bayern Munich (👎 Last week: 1)
Two defeats on the bounce and their treble dreams dashed. That's about enough to constitute crisis at Bayern Munich, right?
After throwing away a two-goal lead to lose to Borussia Mönchengladbach, Bayern put out the big guns against 2. Bundesliga club Holstein Kiel on Wednesday. They couldn't win over 120 minutes and lost it on penalties. They're still top of the table but that's a nightmare week.
7. Real Madrid (👎 Last week: 4)
Two draws in the last three in LaLiga have seen Madrid throw away the advantage they gained by beating Atlético in December, allowing their rivals to go four points clear in LaLiga with two games in hand.
They just aren't scoring enough and Barcelona, who started the season so poorly, are now right on their tails.
6. Barcelona (👍 Last week: 10)
Well hello, there. Are Barcelona back? We don't want to get carried away but we might just do it anyway. Unbeaten in eight in the league, they've now won three LaLiga games in a row for the first time this season.
And they were without Lionel Messi as they saw off Real Sociedad on penalties in the Supercopa on Wednesday.
5. SC Freiburg (👍 Last week: 7)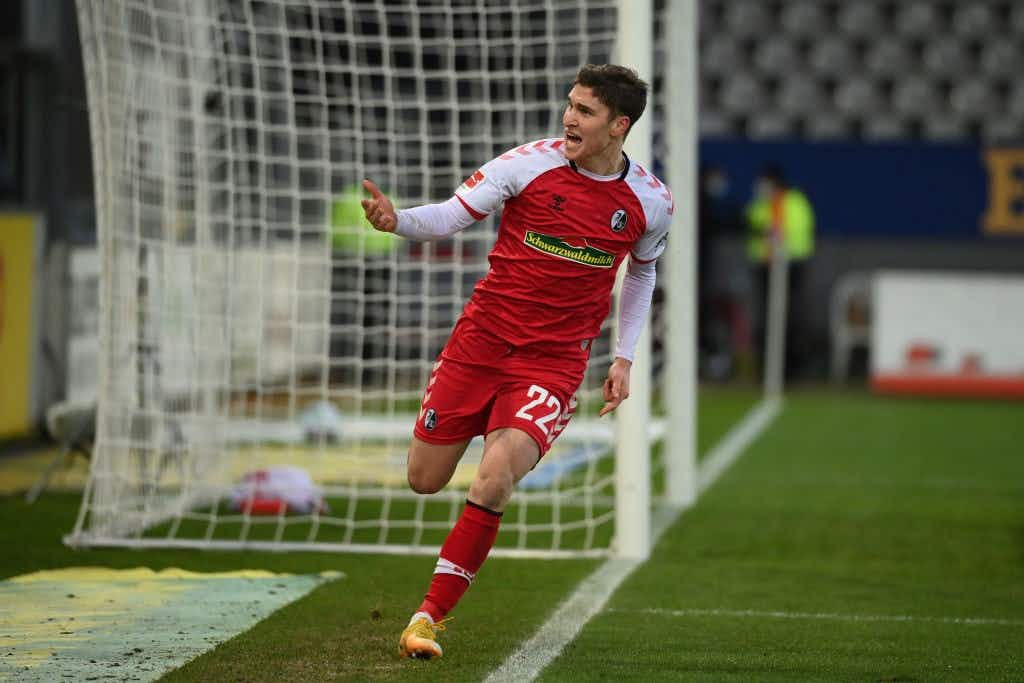 Not Bayern, not Dortmund, not Leipzig or Leverkusen or Gladbach. One team has won five Bundesliga games in a row and it's Freiburg.
That run is the best in the top flight in their history and it was sealed with the 5-0 demolition of Köln on Saturday. Next up: Bayern. We can't wait.
4. Milan (👎 Last week: 2)
Milan are back to winning ways, beating Torino twice in a week. One was convincing, in Serie A. The other on penalties, in the Coppa Italia. A fine response to defeat to Juventus.
With Zlatan Ibrahimović back too, things are looking up, but two clubs deserved to jump above them in our Power Rankings …
3. Manchester City (👍 Last week: 4)
Another week, another couple of wins. Pep Guardiola has found balance and City have now won four league games on the bounce for the first time this season. And they're on their longest ever unbeaten run since the 2018/19 campaign.
It doesn't always look spectacular but City may well be back to their best.
2. Manchester United (👍 Last week: 6)
Top of the Premier League in the new year for the first time since 2012, Manchester United are on a roll.
Solskjaer's side aren't just top but they're there deservedly and they're finding ways to win against good sides, poor sides, and almost everyone in between. They haven't looked this good since a certain Scot left Old Trafford. No, not David Moyes.
1. Atlético Madrid (👍 Last week: 3)
As if they aren't strong enough already, Atlético have added Moussa Dembélé.
Only Barcelona have scored more in LaLiga this season. Nobody has conceded fewer than Atleti's SIX in 16 league games, with PSG (11) the next best defence in Europe's top leagues. Can anyone stop them?