PL fixture release: Eight key things we noticed
---
The Premier League fixtures for 2019/20 have landed and the countdown to the new season can finally begin!
We're hoping for another eventful title race this season, plus a battle for the European and places and – who knows – maybe a fierce relegation battle too.
Here are eight key things we've noticed.
---
Liverpool's run-in
Should the Reds be happy about their last seven games or not?
On the one hand, they face Aston Villa, Brighton, Burnley and Norwich between mid-April and late May.
On the other, they have to play Manchester City away on 4 April, then Arsenal and Chelsea on the 36th and 37th matchdays.
If things are as tight as last season, things will be nervy come the final few games.
---
Man City's first tests
Manchester City have picked up 198 across the last two seasons, with their tallies of 100 and 98 the best seasons in Premier League history.
It took them until December to taste defeat last season and they went unbeaten until January in 2017/18. Can they start so strongly again?
Well, it won't be straightforward. Pep Guardiola's side host Chelsea on the second weekend, then play Liverpool and Chelsea in back-to-back games either side of the November international break.
Keep your eyes peeled for a stumble.
---
Nightmare for Norwich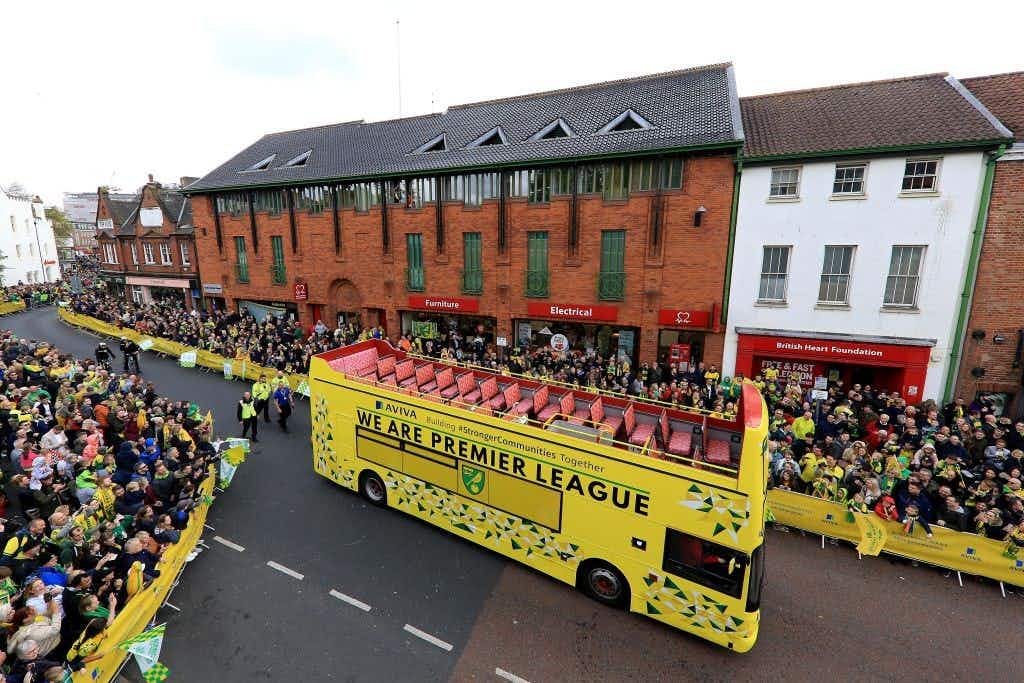 You win the Championship and this is your reward?
Anfield to start the season, Chelsea and Manchester City in two of the next four games.
And then off to the Etihad to end the season! Good luck to the Canaries.
---
First NLD at Spurs' new stadium
Remember when Arsenal won the league at White Hart Lane in 2004?
They will be going to play the first north London derby at Tottenham's new stadium on the 16th anniversary of that 2-2 draw.
---
Manchester United's dream runs
Late October into November, Manchester United face Norwich, Bournemouth, Brighton, Sheffield United, Aston Villa.
After March 14, Manchester United close out the season with Sheffield United, Brighton, Bournemouth, Aston Villa, Southampton, Crystal Palace, West Ham, Leicester.
You just can't wish for better scheduling than that.
---
Man City v Liverpool
The big one. Mark your calendars.
The day the title is decided?
---
Arsenal's unwanted Christmas present
Arsenal will not be looking forward to the festive period.
They host Manchester City on 14 December, then Chelsea on 28 December, then Manchester United on New Year's Day.
Merry Christmas, Unai Emery!
---
Pray for Everton
It looks like Everton have a pretty nice start to the season, then comes December.
Liverpool (A), Chelsea (H), Man Utd (A), Arsenal (H) in the space of 17 days. After a couple of less demanding fixtures over the incredibly demanding Christmas period, they face Manchester City to kick off 2020.
Then, again, comes a nice-looking month.
Followed by Arsenal (A), Man Utd (H), Chelsea (A), Liverpool (H) in four consecutive weekends.
The fixtures computer isn't a Blue.
---
Going down?
Norwich face Burnley with one game to go.
Check with the bookies and these are, along with Sheffield United, the favourites to go down.
The meeting on 9 May is likely to be decisive.