Matthijs de Ligt gives heartfelt speech after claiming Kopa Trophy
Onefootball
Blaise Bourgeois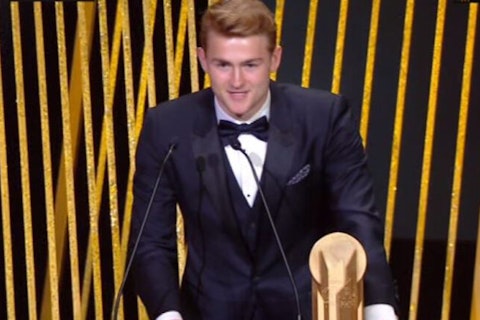 On Monday, Juventus and Netherlands centre-back Matthijs de Ligt won the 2019 Kopa Trophy award, given to the world's best player under the age of 21.
De Ligt helped lead Ajax to the Champions League semi-finals last season before moving to Juventus in a €75m deal.
Now, it appears he and Virgil van Dijk will be a rock-solid duo on the Netherlands backline for the foreseeable future.
"To begin, I'm really happy to be here and it's a big honour to be on this stage with so many amazing players," he said after receiving the award.
"First of all, I want to thank Ajax, the club where I grew up and who gave me a lot…my team-mates from last year, my team-mates from Juventus, and of course my family and my girlfriend.
"I just want to say I'm really proud to have achieved this and I want to say to you that you have to enjoy your evening because with such great players here, I think it is important to enjoy while they are still here."
De Ligt also finished 15th in the overall Ballon d'Or rankings, ahead of Sergio Agüero and just behind Kevin De Bruyne.
Juve's other nominee, Cristiano Ronaldo, finished third. He did not attend the ceremony in Paris.