A contentious second half penalty changed the game as Real Madrid beat Barcelona 3-1 on Saturday.
Sergio Ramos netted from the spot and Luka Modrić put a stamp on the result as Los Blancos heaped pressure on their Clásico rivals in a game that showed both sides' imperfections.
Here's what we made of it.
---
Imperfectly perfect
All the talk before this match was of how both sides were in a downward decline and a pale imitation of their former selves.
A decade ago this game was genuine blockbuster fare, this game was Messi vs Ronaldo, this game was Pep's Golden Age vs José Mourinho's shithouse XI.
Fast forward to 2020 and that's not what we have now.
Now, this Real Madrid side are, according to reports, one bad result away from sacking Zinedine Zidane while Barcelona are coming off the back of their most dysfunctional summer in history.
Neither team is perfect, but that doesn't stop it being any less enjoyable.
In fact, the flaws in these two sides are exactly what made Saturday's Clásico such a great watch.
Brilliant, if sometimes erratic, attacking cut through often dreadful defences at will.
The pace of the game was still here, even without the fans, and an almost total absence of dominant midfielders meant it resembled something out of the NBA at times.
In terms of technical and tactical quality, this wasn't a patch on these games at the start of last decade – but this was actually way, way more enjoyable.
---
Record-breaker
It's not an original observation but it's one that needs saying nonetheless – how bloody good is Ansu Fati?
Ronald Koeman was brave in his selection before the game when he opted to start the teenager over World Cup winner and marquee signing Antoine Griezmann.
But it was a decision borne out of recent performances and one that paid instant dividends for the Blaugrana.
After some good work by Jordi Alba down the left, the ball found its way into the six-yard box for Fati to bundle home.
It was an easy finish for the Spain international, but was made to look easy after some exceptional movement to get to the near post and showed a maturity rarely seen in a player so young.
Lionel Messi leaving the club will, when it comes, be a sad day for Barcelona, but in Ansu Fati the Catalan club have a replacement they could not have artificially fashioned better.
---
White flag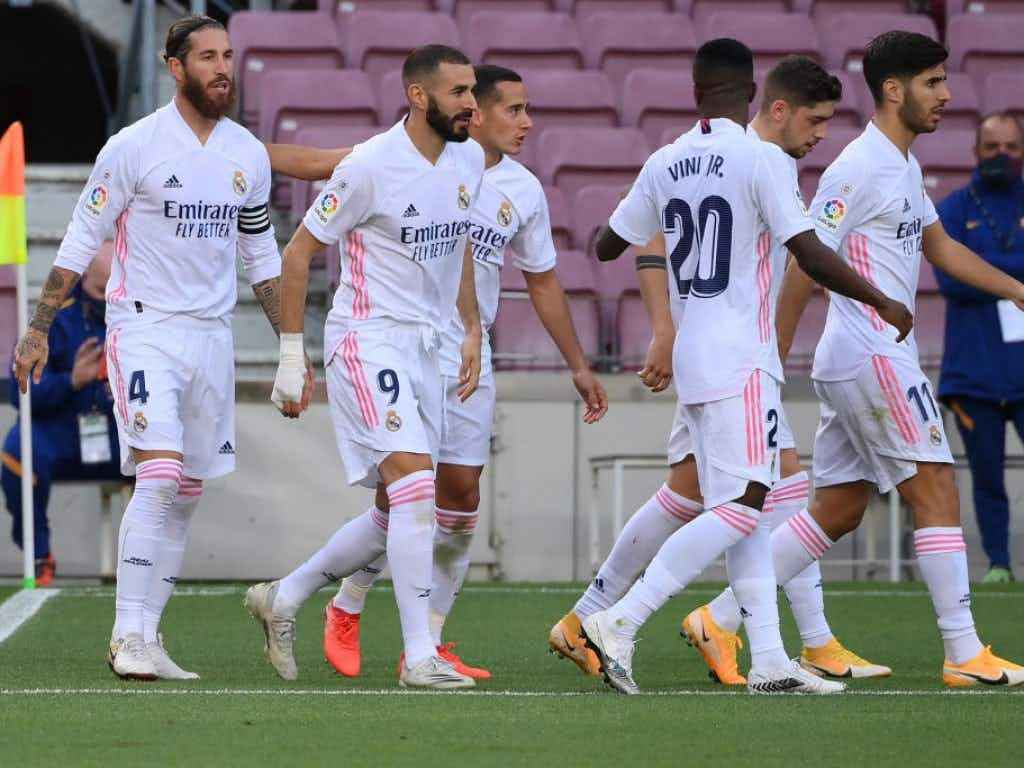 Just how good are this Real Madrid team? Answer: not very.
Don't all scream at once.
A side of Los Blancos' calibre really shouldn't be relying on 34-year-old Sergio Ramos, 30-year-old Toni Kroos and 32-year-old Karim Benzema for influence in the big games.
The mathematicians in the room will tell you that's a combined age of 96 and not sustainable in the long term for a club that wants to win everything all of the time.
Zidane's men offered little of note here in open play, and only got something out of the game thanks to a ludicrous penalty decision midway through the second half.
How the official gave a spot kick for what was a nothing incident inside the area is anyone's guess, but give it he did and up stepped Sergio Ramos to convert from the spot.
It meant that Koeman's men then had to pile men forward for an equaliser and opened up Barça to the counter – which is exactly how they got their third.
It papered over some considerable cracks for the capital club, who looked leaden in pretty much every area and really should have walked away from Camp Nou with, at best, a point.