Well, that wasn't as much fun as the Merseyside derby and Chelsea's theatrics, but it was an intriguing game in it's own right.
Here's our analysis from the Etihad Stadium as Manchester City beat Arsenal 1-0.
---
Man City looking lethargic
Manchester City deserved the three points in the end, but this was another less than impressive performance from Pep Guardiola's men.
Considering they're only four games into the new season you could forgive them for looking rusty but they appear to be lethargic and pedestrian at times.
The absence of Kevin De Bruyne was telling as City failed to carve open Arsenal consistently on Saturday evening.
The lack of break that Guardiola and his team have had following the conclusion of the Champions League should be taken into account and perhaps it's unfair to expect City to be all-singing and all-dancing at this stage.
Liverpool have had a topsy-turvy start to the season, which could be enhanced by what could be a long-term loss to Virgil van Dijk meaning an opportunity could be about to open up for Manchester City.
An improvement is needed but the three points are over the line.
---
Rúben worth the roubles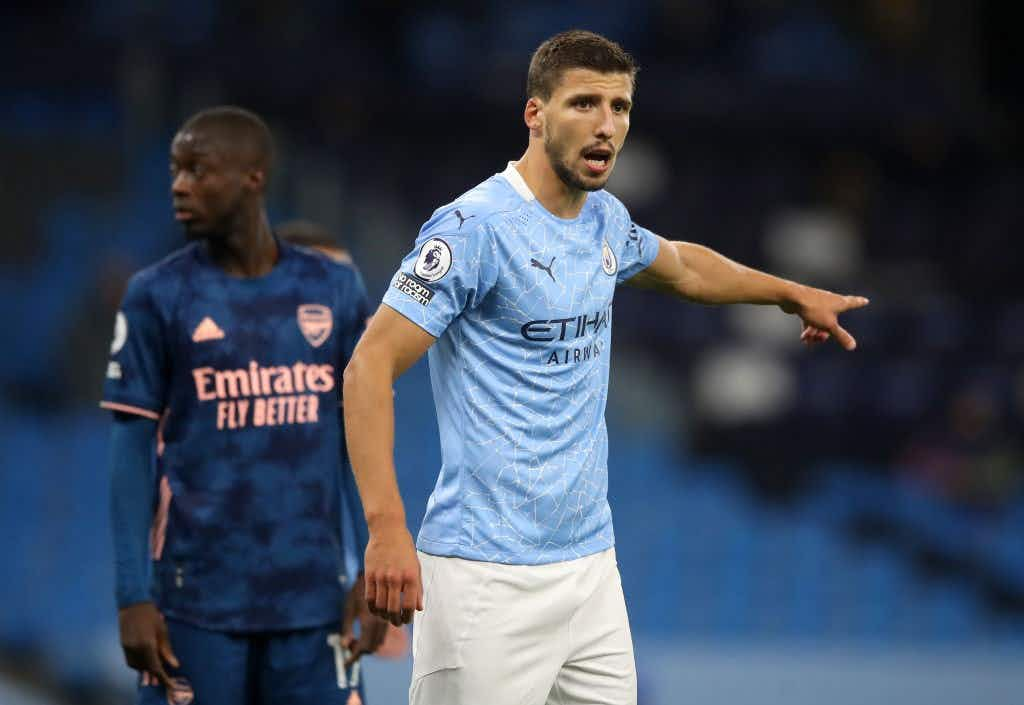 Has Pep Guardiola finally succeeded in bringing in a competent, top-class centre-half?
Well, it's early days but if Rúben Dias' performance against Arsenal is anything to go by then Manchester City have a real gem on their hands.
The Portuguese defender arrived for around £65m in the transfer window as the scrutiny levels of City's defensive recruitment reached the max, surely this one wouldn't be another dud?
Dias always seemed to be in the right place at the right time for City as Arsenal looked to get back into the game, clearing and blocking, the usual defensive traits you would want your centre-half to be able to attain.
However, we know Guardiola wants more from his centre-backs, and he would've been licking his lips at the sight of Dias looking capable at bringing the ball out from the back and breaking lines with his passing.
Not a bad start from the former Benfica man.
---
Signs of promise for Arsenal?
After wins over City, Liverpool and Chelsea towards the end of last season, Arsenal fans were going to into this game in less apocalyptic mood than they usually do going into a meeting with a 'big six' rival.
This wasn't Mikel Arteta's finest day at the office but there were still some positive signs for the Spaniard and Arsenal to take from the Etihad.
Arsenal never once looked like folding and allowing City to put this game out of sight, which is something they have lacked in these types of fixtures for years.
The Gunners found Ederson in inspiring form, with the Brazilian denying Bukayo Saka and Pierre-Emerick Aubameyang from close range at the end of the first half.
Saka, in particular, regularly scared Joao Cancelo whenever he had the ball and Thomas Partey now has minutes under his belt in an Arsenal shirt.
The correct result played out at the end of the day but this wasn't a catastrophic night for Arteta.